Selling your house is something that only happens once or twice in most people's lives. And, unless you know a Greenville real estate agent who will sell your property for free or at a huge discount, it may be a significant time and money drain for you. You have probably calculated the costs of hiring a realtor and are coming to a conclusion that with a little research, you can do this yourself.
So, you've found our "How Do I Sell My House Independently in Greenville, SC" post because of a variety of reasons…
Whatever type of property you have, whether it's a about to be foreclosed or ready for a buyer today, there are opportunities to sell your house in the Greenville housing market if you know what you're doing.
The housing market has been on a steady upswing since 2013. Check out this recent article from WSPA Chanel 7 News stating that Greenville is one of the current top markets in the nation.If you do it correctly, selling your property at this time will be profitable. Most of the time, it's all about wise marketing ideas and realistic expectations for what you want to accomplish with this sale. .
This article will provide some guidelines to help you sell your Greenville area house yourself.
How To Sell Your House By Yourself In Greenville, SC – Let's Dive In
Following is some brief advice for preparing, pricing, listing, and selling your property as a "for sale by owner."  There are several important considerations and steps that you won't want to miss in this process. 
Research And Understand the Local Greenville Market Well
The first and most essential step is conducting a market study on the Greenville, SC area to get an idea of what's going on in your neighborhood. Visiting several home marketing websites (Zillow, Eppraisal, Chase Home Value Estimator), phoning a real estate agent or two to find out what your property is worth. You will want to make sure you do proper research so when you get offers you will know the price you have determined is accurate.
If you don't want to bother with attempting to compute a home value on your own… give us a call at 864-300-4857 and we'll provide you with an accurate fair estimate of how much your property is worth on the market (if you're going to wait 3-6 months to find the ideal retail buyer). We'll also make you a fair cash offer with a quick closing date with no added fees.
Review Your Neighborhood Real Estate Market
You will want to survey the houses for sale now and in recent months in your neighborhood. Take an average of the sale prices making allowance for houses that are like yours and those that have had major renovations. If yours is an older neighborhood with multiple houses in foreclosure or disrepair, this can have a negative effect on your asking price and sale.
Assess The Condition Of Your House
To sell your property at a high price, it must be in excellent condition and well-maintained. In order to sell for even a reasonable price, your house must still be in good shape although you may get by with some cosmetic deficiencies. You will also want to identify characteristics that set it apart from the competition and accentuate them during advertising. For instance, do you have a double garage? Is your backyard fenced with a nice deck? These types of amenities should be highlighted and in great repair. They increase the value of your home.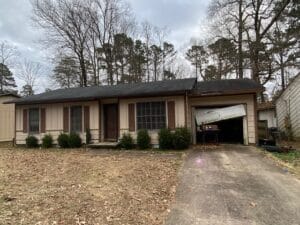 We Buy Houses Just Like This Throughout Greenville
Is the property in good shape? Is there anything wrong with it that you're aware of? What sort of inspections did you do on your houses' structures, systems, and components to ensure they are sound and safe? Are any of them in need of repair or replacement? How long has the home been occupied? These are all important questions that you will need to answer honestly. To the extent that the property is in poor repair, you will need to either negotiate that into your price or have these items repaired.
Make Sure You Have Great Video and Photos Of Your Property
Buyers in Greenville today are especially interested in video. You may reach a larger audience by producing walk-through videos of the property and using them to market it. In fact, these type videos are considered more desirable and transparent for buyers than taking just photographs and can help drive potential buyers to your property more quickly.
Take some nice photographs. Photographs are still needed. Take a photo of each room in the house to display it. Take a few exterior photos of your property. Potential purchasers want to see the home before coming over to inspect it, so having attractive photographs of your house online could make all the difference between obtaining an appropriate buyer right away or waiting months and months.
Get Your House "Listed" On The Local Greenville MLS And Market It
Call around or check the web to locate a real estate broker who won't charge you too much to list your house on the local Greenville MLS. This will help ensure that the majority of real estate agents see your home. Be prepared for a sales pitch as many of these realtors will want your business.
During the selling process, try advertising with your local papers or other local sales papers to get exposure. You might consider putting up signs on the highways and having an open house to attract people. There may be methods to post information about your home in a Greenville, South Carolina, Facebook group.
Does All Of This Sound Like A Lot Of Work?
It can be.
When you sell your own property, there are a few things to think about. When it comes to selling their home in Greenville, many homeowners believe they are saving money and time by doing it themselves. However, in the end, this route costs them more money.
If you are considering selling your home in Greenville by yourself without a realtor, here are some important areas to consider so you do not end up losing money in the end.
If you're not a good marketer or don't want to put in the effort required to sell your home yourself, there may be another option.
If you don't do a good job preparing the house and marketing materials and collaborating with purchasers to genuinely enhance the value of your property in their minds… you may expect to sell the home for 3-8% less than what an expert person would have sold it for.
Holding costs and opportunity costs need to be factored in the equation as well. Every month that your property does not sell costs you another mortgage payment, tax payment, insurance, utilities, and so on. For example, if you have a monthly mortgage payment of $1,500 and $1 ,300 is interest, would it make sense for you to offer a buyer a reduced price today so you may close promptly?
If you want to avoid the trouble of attempting to sell your Greenville home yourself and would rather simply get a good price for it immediately without paying any commissions or charges…
… here at Upstate Home Buyers, we buy local Greenville, SC houses and properties throughout the state of South Carolina.
We would be glad to make you a fair, no-pressure, cash offer on your property.
We offer a quick closing with no additional fees. This saves you extra tax payments, mortgage payments and more.
Also, we handle all the repairs and even clean up the property if you need us to.
If you want to see what we can pay for your house, give us a call today at 864-300-4857 or just fill out the quick simple form here.